Vacation Bible School – June 18-21, 2017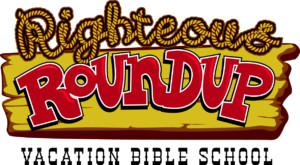 Yahoo! We are thrilled that your little cowpoke will be joining us for VBS! This summer we will be meeting Abraham, who was obedient to the Lord, Dorcas, who touched many lives with her good deeds, Daniel, a man of prayer, and the Good Samaritan. The program will be filled with songs, skits, puppets, games, snacks, and crafts that will guarantee that all will have a rootin' tootin' time!
Parents will join their children on that Wednesday evening in the auditorium for singing, a Bible lesson skit, and then a craft and snack in the MPR.
Date and Times
June 18 – 21, Sunday – Tuesday, 6:00 – 8:00 p.m., Wednesday, 7:00-8:00 p.m.
Where
We will begin in the auditorium. Enter through the Ambler Avenue entrance.
Ages
For children age 4 years through 5th grade as of Spring Semester of 2016
Register and purchase your t-shirts online.