Deal or No Deal: Making Choices in a World of Chaos
How do we as families "deal" with the things the world is throwing at us right now? In this study of the book of James, we will look at what the Bible says about how we should live as husbands, wives, parents and individuals of faith in a world of faithlessness. This class is for all ages!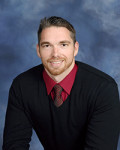 Hillcrest welcomes Nathan Burrow, our new preaching minister. Nathan and his family will join us on November 6.