"Raising Kids Who Turn Out Right"
A practical strategy for positive parenting! Topics include parenting with a purpose, meeting needs, having a plan, the importance of a kind heart, having passion, parenting by example, parenting with courage, and parenting by grace.
Oct. 25 – Hilltoppers Luncheon
Oct. 30 – Faith at Home Weekend:
"Taking the Mask off of Depression"
Oct. 31 – Trunk Party
Nov. 3 – Mumena Dinner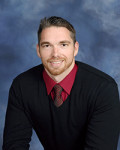 Hillcrest welcomes Nathan Burrow, our new preaching minister. Nathan and his family will join us on November 6.